Description
Maxview Roam 5G WiFi System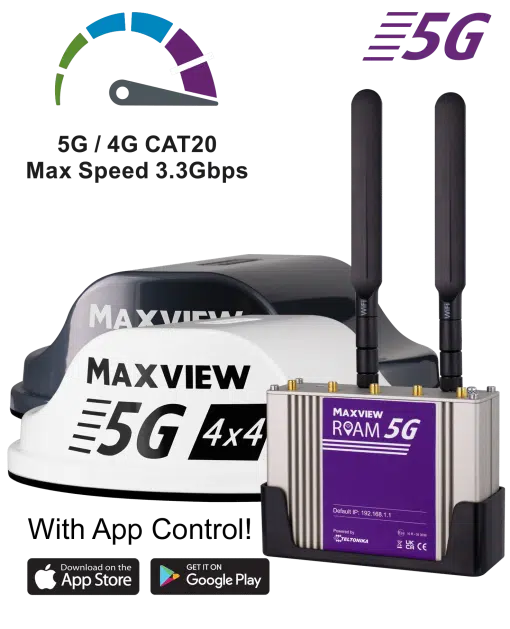 Stay Connected wherever your adventure takes you!
Introducing the Roam 5G, the ultimate solution for WiFi whilst going away in your motorhome or caravan. The Roam 5G is designed to be even faster and even more powerful than our very popular Maxview Roam and Roam X systems.
This Motorhome 5G WiFi system is full 5G, meaning the antenna is 4 x 4 MiMo, it has 4 cables instead of 2 meaning you can access the maximum speeds that 5G is capable of.
The Maxview Roam 5G WiFi system contains everything you need to provide super fast internet for all the family. Ideal for very heavy users of the internet, the Roam 5G is designed specifically for vehicles such as caravans and motorhomes.
Product Highlights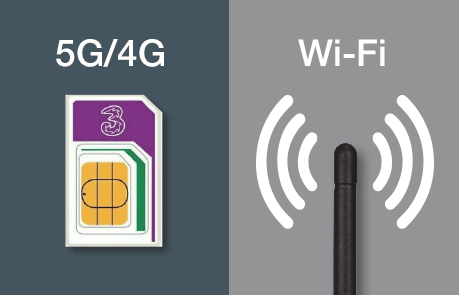 The Router
Our powerful router receives 5G/4G and turns these
into a secure Wi-Fi hotspot. As a secondary source,
the router can also be set up to receive Wi-Fi. This
means 5G/4G data is only used when necessary.
Powerful Antenna
Our powerful 5G/4G 4×4 MIMO Antenna has
been designed specifically for vehicles and optimised
to work in rural and remote locations.
Our Antenna is compatible with all 5G frequency bands
as standard
Omni-directional
By receiving signals throughout 360 degrees, the
Roam requires no manual directional adjustment;
simply fit and forget.
Sleek Antenna Design
Low profile and streamline design for roof
mounting; occupies minimal roof space, for a discreet
installation. It can be mounted in almost any
position with mounting options available. Dimensions
A: 65mm x B: 196mm ø.
Plug and Play Router
Specifically designed for your vehicle, it
features a durable Aluminium housing
with unique anti vibration mounting bracket.
Its compact size and cupboard mounting bracket
ensures a neat installation.
Suitable for European Travel
The Roam has been optimised to work across the UK
and Europe, for internet connectivity wherever your
adventure takes you.
What are the Main Technical Details I Need to Know?
The Roam 5G router provides super high performance
The antenna is 4 x 4 MiMo and compatible with all 5G frequency bands
The router has 2 SIM slots
4 ethernet ports allowing additional wired devices
CAT 20 LTE chip with download speeds of up to 3.1Gbps
The antenna is omni directional, this means that no manual adjustment needed.
The router has 2 WiFi outputs. 2.4Ghz for more range and slightly less speed, and 5Ghz for less range and more speed, perfect for many different applications
Why Should I buy the Maxview Roam 5G Motorhome & Caravan WiFi System
Plug and play complete solution for fast and reliable connection in your vehicle
4 x 4 MiMo antenna – giving you full 5G speeds where coverage is available
In-house built phone application for extra features such as data tracking
5G compatibility
Designed specifically for vehicle use.
Excellent technical support 5 days a week
55 years designing and manufacturing connectivity products for motorhomes and caravans
The Roam 5G uses a superfast 5G router to create a WiFi hotspot in your vehicle. The 5G 4 x 4  antenna significantly improves the reception of the signal and is omnidirectional, so it will perform wherever you are and without adjustment. Simply fit and forget.
Most antennas on the market are 2 x 2, with our 4 x 4 antenna you will have full access to the 5G speeds available when you have coverage.
The Roam 5G kit will also connect to existing WiFi connections (such as your home) and repeat the signal.
The short answer is yes. There are many different types of SIM cards to choose from and how you choose them should depend on what type of user you are.
You will be streaming a lot of Netflix or BBC iPlayer? Then you will need a lot of data. If you are watching 1 hour of videos a day, you will need around 40GB of data a month. Double this if you are watching in HD.
You will just be listening to some music, browsing restaurants and checking your emails? This is much less intensive at around 10GB per month.
You can use our Data Usage Calculator to estimate your data usage for your trip.
The other thing to consider is whether you need a single network SIM or multi-network SIM and how important having a connection all of the time is to you.
Since April 2022 both the Roam and Roam X products are being sent out with a 5GB free multi-network SIM card from our partner BroadbandGo. You will need to register this using their app to activate it.
The Roam 5G motorhome and caravan WiFi system is perfect for anyone who wants superfast and reliable internet on the move.
The Roam 5G WiFi system is also very popular with owners of campervans, van conversions, canal boats, trucks and horseboxes
Will I be able to watch Netflix, BBC iPlayer or Amazon Prime?
Yes you absolutely can! The Roam 5G system will keep you connected to all your favourite shows in rural and remote areas, as long as you have a subscription or license for the relevant service.
You will need about 2 – 3Mbps for standard definition streaming and about 3 – 5 Mbps for HD streaming which are achieved almost everywhere in the UK with the Roam 5G system.
Music streaming services like Spotify need a maximum of 1Mbps.
The main difference is the speed capability of the router. The Roam 5G is a CAT20 router which means maximum speeds are 3.1 gigabites per second compared to 150 megabytes per second on the CAT4 Roam. The other difference is the capability to handle multiple heavy users simultaneously.
Will I be Able to Connect Smart Devices Such as Lights, CCTV Cameras and Smart Switches?
Yes, absolutely. You will be able to connect to the WiFi connection with your smart devices in the same way you connect them to your router at home.
It's worth bearing in mind that the router will need to be continually powered for the WiFi connection to remain on, so if you are checking WiFi CCTV cameras then the router will need to be on also when you are not there. This may come down to what battery you have installed.
What are the Contents of the Roam 5G Motorhome WiFi kit?
Omni-directional 4 x 4 MiMo Roof Mount Antenna and Fixings
Cable with SMA connectors
12v 4G/5G Router
Mounting Bracket and Fixings
12V Cigarette Power Supply
Ethernet Cable